Rob Carlbo Named PTR Professional of the Year
Press Release
03 May 2013
For Immediate Release
Robert Carlbo Named PTR Professional of the Year
Hilton Head Island, SC – – Professional Tennis Registry (PTR) presented its annual awards last night during the PTR International Tennis Symposium. The event, which includes 50-plus on court and classroom presentations for tennis teachers and coaches, a trade show and tournament, will be held May 2-5, 2013, at the Sonesta Resort on Hilton Head Island, South Carolina, USA.
Robert Carlbo, of Palm Harbor, Florida, has been named as PTR Professional of the Year. This award is presented to the PTR Professional who has displayed the highest standards of conduct and service to both tennis and PTR. Areas of consideration include service to PTR; participation in national, sectional or local tennis organizations; personal or student rankings/performance; exhibitions or speaking engagements; publication of articles; tournaments; coaching; tennis related volunteer/community service; and continued education.
In the past year, no PTR member has pursued education and professional development more vigorously than Robert Carlbo. A glutton for education, he is certified to teach wheelchair tennis and holds an Etcheberry Certification in Strength, Conditioning and Movement in Tennis. He is Steg 1 and 2 with the Swedish Tennis Association and USPTA P1. Robert Carlbo is the first – and so far the only – person to complete all four PTR certification pathways, earning Professional ratings in each.
Yearning to learn more, Carlbo completed the rigorous requirements and earned two PTR Masters of Tennis in Junior Development and Performance. A PTR Clinician and Tester, Carlbo never misses a PTR  symposium or conference, and no doubt he'll be the first in line for future educational opportunities.
Carlbo is the Head Coach of the East Lake High School boys' tennis team, and teaches junior development tennis for the 11 to 17 age group. He runs a 10 and Under Tennis program at the North Pinellas YMCA and at surrounding elementary schools, and teaches a variety of adult clinics. Carlbo coaches some of the top juniors in Florida and is visited regularly by ATP and WTA touring pros. He mentors coaches from Sweden, China, Great Britain and the US.
PTR is the largest global organization of tennis teaching professionals with more than 14,000 members in 117 countries. It has the greatest percentage of multicultural and women members of any such organization. PTR is dedicated to educating, certifying and servicing tennis teachers and coaches around the world in order to grow the game.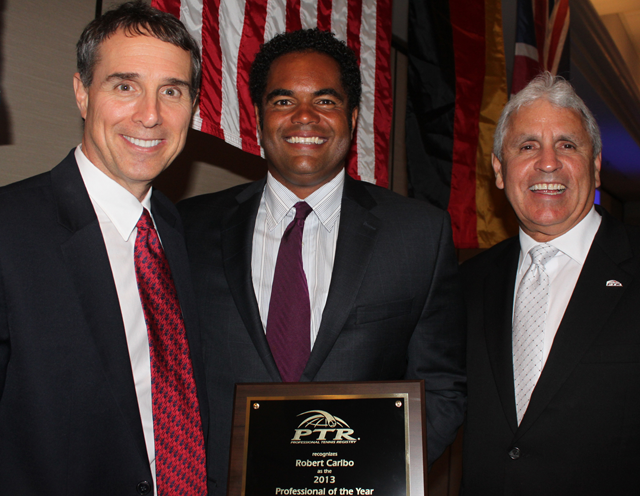 Photo from left: PTR CEO Dan Santorum, Robert Carlbo, PTR Board President Jorge Andrew
Contact: Peggy Edwards • PO Box 4739, Hilton Head Island, SC 29938 USA
843-785-7244 or 800-421-6289 • fax 843-686-2033 • peggy@ptrtennis.org • www.ptrtennis.org
Carlbo Tennis offers top high performance tennis training in Tampa Florida. We training and instruction for under 10 youth, juniors, adults, coaches, professional ATP/WTA, college players, and disabled athletes. Contact us to learn more about our private instruction and camps.
CONTACT CARLBO TENNIS
TEL: 813-786-5318
EMAIL: robert@carlbotennis.com